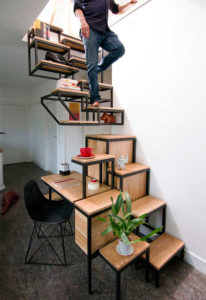 Both homeowners and renters will have to contend with storage. Below are some tips on how to efficiently organize your stuff at home.
Go with Squares
Using square storage containers are always a better choice because they can maximize the space as opposed to round containers. They don't fit as flush as square containers do when placed side by side or stack on top of each other.
Go for Premium
The idea when it comes to storage containers is that it should last for a decent amount of time. It only makes sense, then, that you should not go cheap on them especially when you're going to be using them to store things in areas where they will be exposed to changes in temperatures or exposed to the elements.
Go for Nesters
Nesters are the type of containers that stack together. These are a great solution if you have limited space. They won't take up too much space when they're not in used and they stack together when they're used for storage.
Know your Storage Space
Before even running to the nearest home depot and buying boxes of storage containers, you first have to consider your storage space. Check how much you can store in it and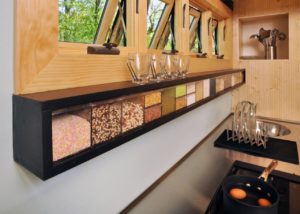 determine the right boxes for your needs. Also, don't forget the kinds of things you plan on storing there so you get a good idea of the boxes you might need.
Magazine Holders for Veggies
Want something truly unique for your storage space? Get a couple of those magazine holders and use them to store your vegetables, especially the rooted ones, in your cabinets or in your fridge.
Tacking your plastic bags
If you hate rifling through your drawers and cabinets looking for a plastic bag or foil when you need one, you should tack the boxes they come with to the inside of your pantry door using a push pin. Open the flaps and tack it firmly for easy access to bags should you need one.
Magazine holders in the kitchen
Magazine holders are making an appearance again. They are great for organizing a lot of things, especially in the kitchen where we tend to horde more than our fair share of stuff. Use these holders to store cutting boards, cling wrap and plastic boxes.
Tea tin with dividers
If you're a fan of drinking tea, you know how hard it is to find the right tea bag when you need it. We all have a tea box in our kitchen filled with assorted tea bags. How about you organize your tea box by putting dividers for the different blend of teas you prefer. This way, it's easier to find the right tea for the occasion.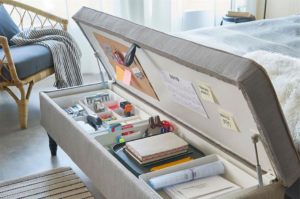 Veggies in the drawer
This next tip might seem a little odd but hear me out. Putting your veggies in the drawer is actually a genius idea. We usually have a tray filled with onions, garlic, and tomatoes. They look unsightly and have the tendency to rot since smaller pieces get hidden. Putting them in drawers is an easy way to corral them, keep them organized, and it frees up space in your countertop.
Pegboard in your drawer
This next tip totally blew my mind. It's simple yet so ingenious I'm surprised I'm only finding out about this one now. Pegboards are easy to come by; almost all arts & crafts store has one. They come in a variety of sizes so you're sure to find one that'll fit snugly into one of your drawers. It's great for keeping trays and plates upright.
Chalkboard paint for labeling
Not many realize this but chalkboard paint is actually pretty great for labeling. It's an inexpensive way of labeling jar lids so you know exactly what's inside. Should you change the content of the jar, all you'll have to do is erase the previous label and write a new one with chalk.